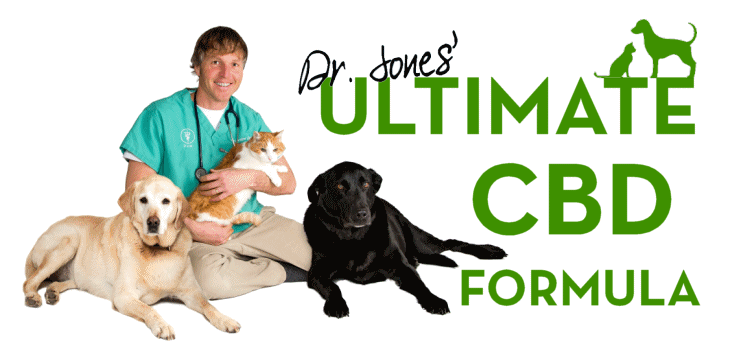 Disclaimer
Please read this disclaimer thoroughly and carefully. If you have any questions about it, please see contact information below.
YOU EXPRESSLY UNDERSTAND AND AGREE THAT:
The content of this site and any material downloaded from this site, including articles, digital books or reports, is not intended to be a substitute for professional medical or behavioral advice, diagnosis, or treatment. Always seek the advice of your Veterinarian or other qualified animal healthcare provider with any questions you may have regarding a medical or behavioral condition that your pet may suffer from. If you are viewing this site and have come here because your pet is ill, contact a veterinarian IMMEDIATELY.
Dr. Jones' Ultimate CBD
No medical claims are being made for "Dr. Jones' Ultimate CBD" ("The Supplement") on this website. The information provided on this site is based on valid scientific research in addition to expert opinions of professionals that are involved in the development and application of The Supplement. Statements that describe how The Supplement is used will not necessarily reflect the findings of scientific research or any level of success in the treatment of disease.
Neither the US FDA Center for Veterinary Medicine nor Health Canada's Veterinary Drugs Directorate have evaluated or rendered statements concerning The Supplement and any information that is presented on this site.
PRODUCT SAFETY
Product Safety is of primary importance to us. The Supplement is formulated specifically for use in dogs, and is formulated to allow a wide margin of safety in the hands of all pet owners, inexperienced or otherwise in the use of herbs and other natural supplements. Adverse effects are rare.
That being said, if you witness any adverse event such as vomiting, diarrhea, skin problems, breathing problems or otherwise that you suspect is the result of using The Supplement, DISCONTINUE THE USE OF THE SUPPLEMENT IMMEDIATELY, consult your Veterinarian and CONTACT US right away at:
1-800-396-1534
FURTHER INFORMATION
Never disregard professional veterinary or medical advice or delay in seeking it because of something you have read or seen on our website. If you think you may have a medical emergency involving your pet, you should contact your personal veterinarian, or an emergency pet or animal clinic in your area. Reliance on any information provided by Four Paws Online Ltd. or our employees, others appearing on our website at the invitation of Four Paws Online Ltd., or other visitors, users or members is solely at your own risk.
To emphasize: all content provided on or through this site or any materials downloaded or derived from this site including all digital books, reports, articles or audios (i) is provided for informational purposes only, (ii) is not a substitute for professional veterinary advice, care, diagnosis or treatment, and (iii) is not designed to promote or endorse any veterinary practice, program or agenda or any medical tests, products or procedures. The Site does not contain information about all diseases, nor does this Site contain all information that may be relevant to a particular medical or health condition. You should not use any Content for diagnosing or treating a medical or health condition. If your pet has or suspect that your pet has a medical problem, you should contact your professional veterinary provider through appropriate means. You agree that you will not under any circumstances disregard any professional medical advice or delay in seeking such advice in reliance on any Content provided on or through the Site. Reliance on any such Content is solely at your own risk.
Content provided on or through this site regarding herbal treatments, home diets, dietary supplements, acupressure, human over the counter products, aromatherapy, homeopathy, and massage have not all been evaluated or approved for use in animals. You agree to consult your veterinarian before beginning any course of treatment.
Four Paws Online Ltd. does not represent or warrant that (i) the website or products will meet your expectations or requirements, (ii) the site or products will be uninterrupted, timely, secure, or error-free, (iii) any results or content that may be obtained from the use of the site or products will be accurate, timely, complete or reliable, and (iv) any errors in any products will be corrected.
No advice or information, whether oral or written, obtained by you from Four Paws Online Ltd. or from any service provided through our website shall create any warranty not expressly stated in the terms of use.
To the maximum extent permitted by law, Four Paws Online Ltd. will not be liable under any contract, negligence, strict liability or other legal or equitable theory for (i) any special, incidental, indirect, consequential or exemplary damages arising out of or in connection with the site or products, even if Four Paws Online Ltd. has been advised of such damages or the possibility of such damages; (ii) the cost of procuring substitute goods, services, or technology; (iii) personal injury, including, without limitation, death, caused by your use or misuse of the site or the products; or (iv) aggregate liability in excess of $100.
Any material downloaded or otherwise obtained through our website is done at your own risk and you will be solely responsible for any damage or harm to you, your pets, your computer system (or any component connected to your computer system) or loss of data that results from use or download (intentional or otherwise) of any such material.
Some jurisdictions do not allow the exclusion of certain warranties or the limitation or exclusion of liability for incidental or consequential damages. Accordingly, some of the above limitations may not apply to you.
You acknowledge and understand that the contents of Four Paws Online Ltd., such as text, graphics, images, information obtained from Four Paws Online Ltd. licensors, and other material contained on our website is for informational purposes only.
Contact Information
Online: support.drjonesnaturalpet.com
By Phone: 1-800-396-1534
By snail mail:
Four Paws Online Ltd.
2124 Ymir Road
Nelson BC V1L6Y9
Canada
Are You Ready to Order Dr. Jones' CBD Formula?
Copyright © 2023 Four Paws Online Ltd. All Rights Reserved.